Brie and Robert's wedding day has finally arrived! I know that I say this every time, but I am so excited for their wedding today. As always. :) Brie is one of the sweetest brides I know, and this entire time planning has just been fun. She and I have many things in common, including our love of Kate Spade and all things pink, and so that has definitely added to everything as we've been going along. Their wedding is one that I think will go down on my list as one of the prettiest I've ever had the privilege to be a part of, and an amazing way to finish out the year of 2015.
Of course, a great big thank you to Petra Huetzen Journalism and Photography for sharing their engagement photos and for traveling all the way from Germany, I can not wait to see how you capture their day!
So without further adieu, please read more on these two sweethearts, written from Brie's perspective ... and then I hope to see you back here at the blog after their wedding day to share some of the amazing details of the day!
.............................
How did you two meet?We met back in college. Robert used to walk me to my car after a night class each week. After graduation, we met up again at a committee meeting and started spending time together. Soon after, we were meeting every night.
When did you know that Robert was the one for you? I don't think there was one particular moment where I knew he was the one. Over time I realized many great things about him that I fell in love with. He is honest and loyal, kind, and would do just about anything for me. He challenges me intellectually and has helped me run and grow a business I started, that is now a joint venture. It has certainly been a fun journey.
How did he pop the question? Share all the details!
Last year, in October, we went on a trip to Hawaii. I hoped that he would pop the question at some point on the trip. We went to Oahu for four days and then to Maui. We had a wonderful trip and I woke up the last morning to a beautiful ring! Even though I hoped he would propose on the trip, I was surprised that morning. It was an amazing trip that I will always remember.
When is your wedding taking place?
Our wedding ceremony will be held at a catholic church in Pensacola, in the evening after dark, and our reception will be in downtown Pensacola. I wanted to be able to use beautiful candlelight at the ceremony. I've always wanted to get married at Christmas time. It is truly my favorite time of year. Having it at this time also allows our family to come and visit with us from Michigan. We are very excited about spending our first Christmas here in Florida after moving from Michigan twenty five years ago!
Describe your wedding in three words.
Sparkly, dazzling, and stunning
Now, share the details! Do you have a theme, or design, or feeling you want your wedding day to encompass?
We can't wait to see how it all comes together! Everything is white and blush. In addition, we are using metallic accents in gold, silver, and rose gold. Since the wedding is at Christmas, there will also be little pops of red in the details. We wanted it to have the feeling of being the holidays without being over the top.
Out of everything, what is the MOST important to the two of you on your wedding day (other than becoming husband and wife!)?
We really want to enjoy the day and have it represent us. We want to spend time with family and friends and celebrate our big day!
Do you have a favorite wedding blog or magazine? If so, what is it?
and
are two of my favorite magazines. I really enjoyed
blog as well.
What have you loved most about planning your wedding?
Everything! This has been such a fun experience planning our wedding. It will be so great to see all the details come together that day. Picking flowers, cakes, linens, and furniture were all fun. Searching and creating unique ideas to add personal touches has been the most fun!
What has been the most difficult part when it comes to planning?
Time. We work crazy hours, so the most challenging part to planning was finding time to meet with vendors. Having a coordinator was the best decision we made. There is no way we could've gotten everything we wanted doing it ourselves.
Have you always dreamed about your wedding day? Or, was the day you got engaged when you first started thinking about it?
I have always dreamed of my wedding day. I've always wanted to get married around the holidays too. Lucky for me, the timing worked out and I am getting the wedding of my dreams.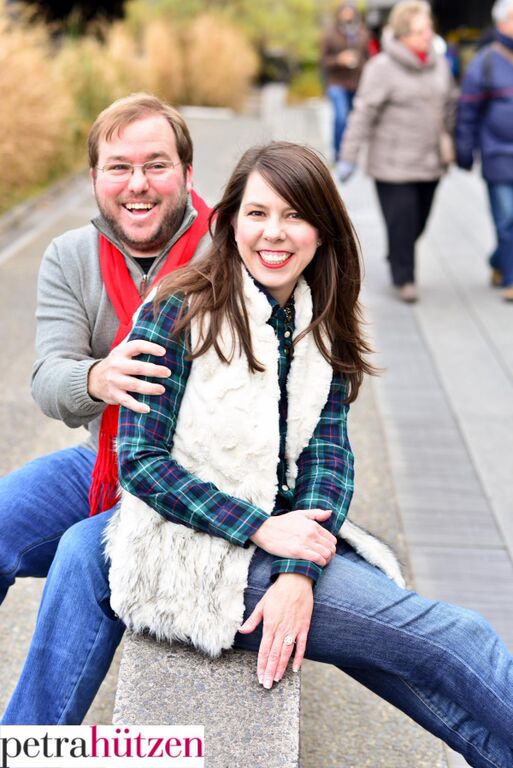 Are you going to celebrate with a honeymoon after your wedding? If so, where are you headed?
We are going on a honeymoon, and so excited about our adventure. We are headed to New York for New Years Eve. We've already gotten tickets for a party in Times Square to watch the ball drop.
What makes you most excited about becoming Robert's wife?
I am most excited about officially being married. Even though its a ton of work, I'm excited to change my name and truly be husband and wife.
When it comes to marriage and your life together, what are you looking forward to the most?
Our next project is to renovate our house. I am looking forward to making a home together.
Picture your lives five years from now. Where do you see yourselves, what do you see happening in your lives together?
We love to travel and see new places, so hopefully we are still exploring new cities and visiting our favorites. There are still a lot of places on our list. We have built a beautiful home together and are settled in.
Do you have any advice for newly engaged brides, or those in the middle of planning?
Try to enjoy every moment of it. Even when you are stressed, take a step back and realize that this is supposed to be fun! The time flies by and we have truly enjoyed planning our wedding. I'm glad that we had a little over a year to put everything together. It allowed us to take our time and enjoy the tastings, meetings, and shopping!
Congratulations on your marriage, and I am so excited to see it all come together, as I know you are too. Enjoy every moment of the day, it is going to be absolutely amazing!